Events
For further details on any of our events please contact us at: stnicholasfestival@hotmail.co.uk
Recent Events
Cameo Opera at Charlton Park
After an indifferent summer the weather gods smiled on us and we had lovely, balmy evening for the start of our event, a picnic in the grounds of Charlton park. Following good food, wine and company we moved into the ballroom for the entertainment.
Cameo Opera provided a delightful musical evening. The program ranged from Puccini to Porgy and Bess and musical stops in between. Not only were the troupe accomplished singers but great actors too, with a seductive soprano circulating during her aria, and a barber who shaved a member of the audience during Figaro!
We were lucky to have some good male voices in the audience who went on stage to join in the chorus of ' A Policeman's lot is not a Happy One', appropriate knee bending included!
We had some spectacular gifts for auction and thanks to the generosity of the audience we raised £680 for this years charities, KRAN and SNAAP.
Upcoming Events ace
St Nicholas City Parade
Saturday 3rd December
Last years parade was the best ever. Can we top it this year? Yes we can! As last year the Parade with distinguished guests will start from Westgate Hall at 12.00 and make its jolly way through the city pausing in Rose square for a fanfare from the balcony at Primark, through Whitefriars and on to the Buttermarket at 13.00 where Saint Nicholas is welcomed by the Dean, the Lord Mayor and other dignitaries for a brief children-centred service in the Nave.
Saint Nicholas Festival Dinner
Lodge Refectory, The Precincts, Saturday 3rd December 19.00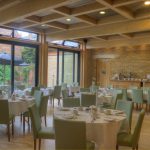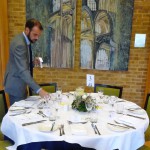 The evening will be different both in scope and style this year. We are in the Refectory of the Lodge and we are celebrating Saint Nicholas' Hellenistic roots with a less formal Mediterranean Feast. There is a Welcome Drink at 7 p.m. and whilst enjoying this you can buy tickets for the raffle and also view items that will be in the Auction after the Feast. Entertainment is by Greek two piece act "Orpheus" and a briefing on the life of St Nicholas. The Dinner will be followed by a fund raising Auction.  The lots include a specialist tour of Rye including a meal for two, a Canterbury Escape Rooms challenge for 5 and a framed watercolour of the cathedral.
The places have all now been allocated, Sorry! Tickets for this evening cost £37.50 and this includes the meal, with a choice of menu, and two bottles of wine per table. As numbers are limited you are advised to apply early.  They will be distributed on a strictly first come, first served basis. Tickets are now available from the first floor offices at Canterbury cathedral shop at 25 Burgate, Canterbury by cash or cheque. The places have all now been allocated, Sorry!
Alternatively contact us at: stnicholasfestival@hotmail.co.uk
Further events to be announced soon…